Overview
Mailing lists are a great tool for keeping your customers informed of news regarding your business or website. But sending out bulk emails is a sure way to get flagged as a spammer. While this software is too complex to guide you though all of it's functionality, we can so you how to get started.
---
What are Mailing Lists?
Mailing lists are used to send out bulk emails to a group of subscribers. While you can send mail using any mail client to many mailboxes, you will almost certainly get flagged for spamming. Once your domain or IP address gets flagged, it can be quite an ordeal to get it cleared. While you are flagged, most of your emails will get flagged as spam, or out right rejected, even if not part of a bulk sending. See below for information on domain or IP flagging by RBLs.
---
Real-time Black Lists
For most web hosting businesses, monitoring spam senders around the world would take a lot of time and resources. So instead of doing this themselves, the subscribe to RBLs to provide that service for them.
Real-time Black Lists, or RBLs are organizations that monitor spam trends worldwide. They then provide this information to other businesses as a service.
There as several of these groups, using several different methods, tracking down and flagging spam senders from around the globe. Most web hosting services will be subscribed to one or several of these RBLs, including Google, Yahoo and Outlook.
Because of these reasons, getting your domain or IP address on any of these lists can be catastrophic to your business. And getting your domain off of one of these lists, while not typically difficult, will take time. This is why using mailing list software for sending out bulk emails can be so helpful.
If you suspect that you may be on a blacklist, there are several online tools you can use to check your blacklist status. One of the best is MXToolbox.com.
---
Managing mailing lists
Included with cPanel is the mailing list software called Mailman. Mailman is a powerful tool for managing your mailing lists and sending out bulk mail.
Installing the software is as simple as going to the email section in cPanel and selecting Mailing Lists.

Once the app opens, you have the option to create a new mailing list, or manage existing lists.

Create new list
You can create a new list by filling out the fields at the top of this page.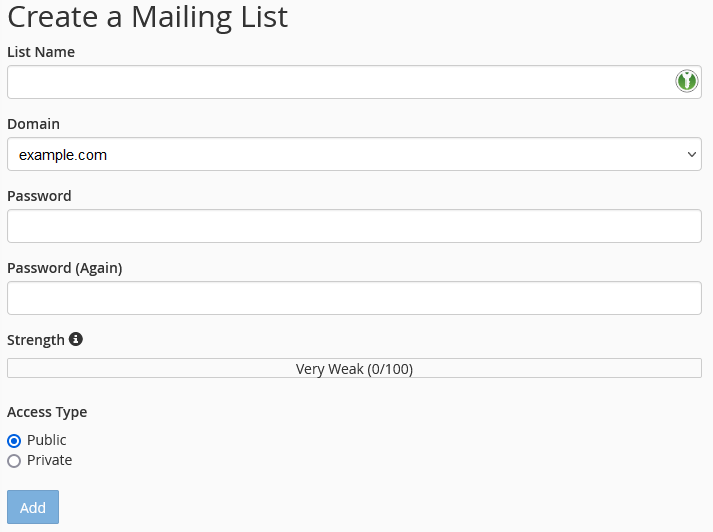 List name – this will be the name of the list. It is also the email address associated with the list
Domain – choose which domain you want to use
Password – enter a secure password for managing the list
Access Type – choose whether the list is public or private
Once you are happy with the settings, click Add to create the list. The system will also add an alias for the email address owner-[listname]@example.com.
Managing lists
You will also see any lists that are currently in this account listed at the bottom on the screen.

From here you have several options for managing your mailing lists
Access – you can choose whether your mailing list is public or private. Typically you will want it set to private.
Delete – completely remove the mailing list and all content (this cannot be reversed)
Change Password – change the list admin password
Manage – manage the mailing list admins and subscribers
Delegation – add users to help manage your mailing list
---
Mailman
Using Mailman, you can manage all your mailing lists and subscribers, as well as manage your emails. Mailman will help guide you through the process to help ensure that your emails will not be flagged as spam and your domain reputation will stay in tact.
While this software is too expansive to publish a guide here, there are plenty of guides out there for Mailman. You can find the official guide at https://docs.mailman3.org/en/latest/userguide.html.
You can find the software's website at https://docs.mailman3.org/en/latest/index.html#.
---
If you have any further questions, please be sure to reach out to our support staff by using our chat service in your client area or by submitting a ticket.