Overview
If you would prefer to have someone build your site for you, you can get our web site professionals to build a website for you. Our Do It For Me (DIFM) service will work with you to build you a new, professional site.
---
What is DIFM?
The Do It For Me service, or DIFM for short, is where we build your new website for you, using the information that you provide. Our professionals will custom build a website for your church or business to your specifications. We can have your new SEO optimized site up and running in weeks, rather then the months that other similar services require.
And not just build it. We will also maintain the site for you, allowing you to update the site as needed. Our team will allow you to have a great looking, modern site that will work great on all devices, computers, phones and tablets. Even your smart fridge!
---
How do I purchase a DIFM?
You can purchase a new DIFM site from your client area.
If you don't know how to access your client area, you can find out here.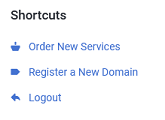 Once logged in, click on Order New Services in the left-hand Shortcuts menu.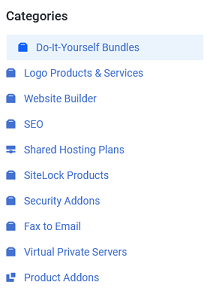 You should now see a list of Categories on the left-hand side of the screen. Select Do-It-For-Me Bundles.
You should now be able to choose which package you prefer. Click on Order Now to begin the order process.
You will be asked what domain you wish to apply the services to. You can use an existing domain, or you can purchase a new domain. Choose a domain and click Continue.
You will see a summary of the DIFM service that you are purchasing. Review this page to ensure that this is the service that you are requesting. If you are happy with the plan, click on the Checkout button in the right-hand column.
If you are purchasing a domain name, you will now see the upgrade options for your domain name. You do not need to update the name servers at this time. Once you have your options selected, click on Continue.
Your DIFM products will now be added to your cart (as well as your domain, if you purchased on). There should be two separate products:
A monthly Design, Build and Launch service

this is the website design service
this service is for a 12 month term

A monthly Maintenance service

this is the monthly maintenance and hosting service
this service is ongoing
The maintenance plan will be discounted for the first twelve months, as long as the package is left intact. If the package is broken before the 12 months have past, the maintenance plan will return to full price.
Note: You will not be able to cancel your DIFM service until after the 12 month term has elapsed. If you do cancel the service, you will lose the site.
If you are happy with these terms, click on the Checkout button on the right-hand side to proceed to checkout. Once your invoice is processed and your order is accepted, you are on your way to your new website
---
What options are available?
We are currently offering three options for your new Do It For Me website to fit your needs.
5 Page Website Design, Build & Launch

great package for small businesses and churches

10 Page Website Design, Build & Launch

good for larger churches and business with more flexibility for more pages and content

E-commerce Website Design, Build & Launch

great for creating an online store
We also offer several upgrade products for your existing Do If For Me service, such as extra hours of maintenance or extra pages. Contact our support staff for information on these addon services.
---
I purchased a DIFM service, what do I do now?
After you purchase your Do It For Me service, you should receive a message or call from your Design manager within 48 hours. They will guide you through the on-boarding process. Once they gather the information about what you want your site to be, they will begin the design process.
Once your site is launched, you can contact the design team to update and tweak your site as needed.
After the 12 months has past, you may decide you no longer need the maintenance service. You may cancel after the 12 month term has elapsed. This will convert your service into a hosting only service that you can maintain yourself. However, be aware that once you cancel the maintenance, it cannot be restarted. You will be responsible for the maintenance on the site going forward.
---
If you have any further questions, please be sure to reach out to our support staff by using our chat service in your client area or by submitting a ticket.